I would like to share an early version of Sitecake with page manager functionality. It's still not polished in terms of UI and UX, but it's fully functional.
Originally, page manager should've managed pages only: pages linked in the main menu on the top, pages not linked below. The logic was simple and straightforward but lacked the ability to:
have more than one menu
include anchor links in the menu
include external links in the menu
So we changed original plan and developed server side for these three features. Not we need to to change UI/UX to support them on the front. That's the reason front has suboptimal UX.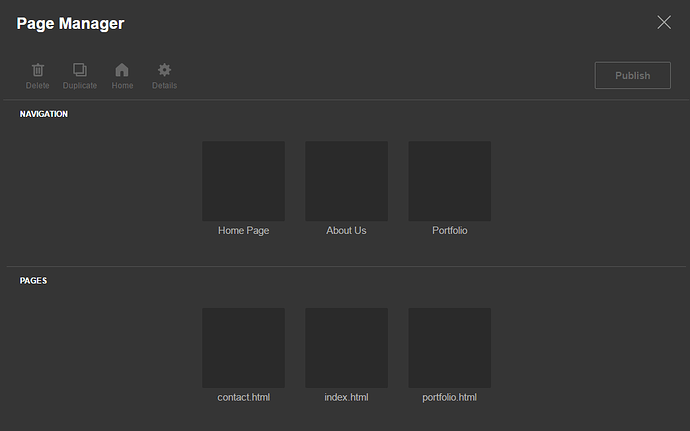 What you can do with this beta version:
you can manage only one menu per website (it's possible to have more than one instance of it on the page, differently styled, for header and footer, but it's the same menu with the same links)
can add, reorder and delete menu items
can clone existing pages, delete pages, set index (home) page
can do basic on page SEO, change page URL, title and meta description, and review all of that in wysiwyg Google search results snippet
NOTE: Page manager is accessed when you press P key on the keyboard while editing the website. Exit with ESC. In final release we will add toolbar button for it.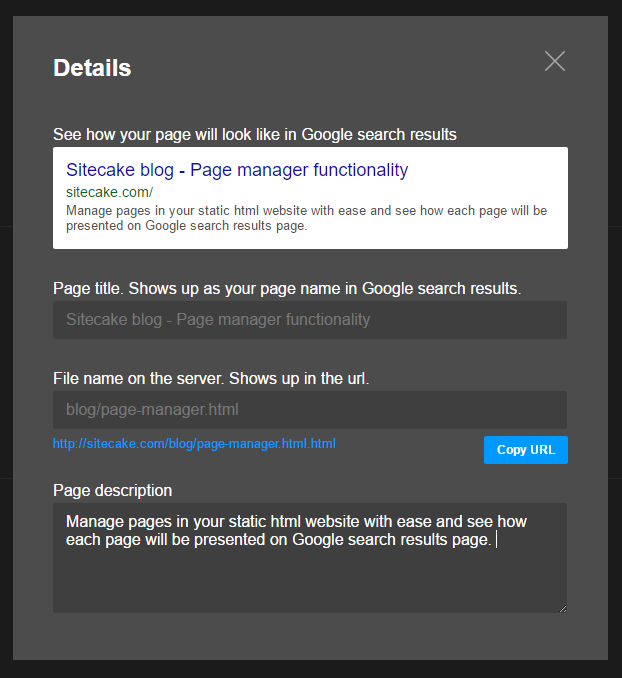 Indirectly, page manager update enables Sitecake as a static cms to become a light blogging engine. A blogging engine for a static, flat-file, html blog. And static websites bring some new things on the plate:
speed (no database, no PHP, only web server that serves HTML page)
with the speed, better ranking with Google and other search engines
enhanced security (it's a static website, nothing to hack)
I will create a separate blog post to elaborate on static websites and a cms for static websites topic.
So, right now you can create a home page and a blog article page and then use page manager to clone the article page for each new post. Link new articles from main menu or any on page list and you have your blog.
Another note, make your menu HTML be an unordered list with sc-nav class and links wrapped in li elements. It's default menu HTML page manager needs. Like this:
<ul class="sc-nav"> <li><a class="active" href="">Home</a></li> <li><a class="" href="/about.html">About</a></li> <li><a class="" href="/portfolio.html">Portfolio</a></li> <li><a class="" href="/contact.html">Contact</a></li> </ul>
There is an option to customize that HTML to whatever you want to use, just that I will leave that for another post.
Here is the download link

Enjoy, do not be too harsh on us, it's still not finished but we would like to hear what you think.